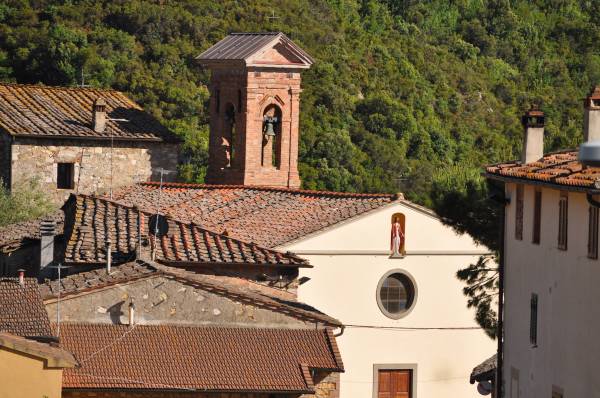 Iano: the village and the church
Holiday in Iano.: (at a height of 340 m,) located in a marvellous Tuscan hill setting, surrounded by woods and grain fields, vineyards and olive groves. Iano is a little hamlet of Montaione, in the province of Florence, and enjoys a central position respect to Florence, Pisa and Siena, at 50 km. Furthermore it is about 18 km from Volterra and 20 km from San Gimignano. Set in the midst of oak woods. Just a short distance from the Tuscan Holiday Home there is the town´s mini market which offers all kinds of foodstuffs: fresh bread every day, including Sundays and holidays, fruit, local cold cuts and salami. A real convenience for guests on holiday at Iano at Il Casale del Madonnino, who will be able to just walk down and shop for any need. Open every day from 8 am to 1 pm and for 4 pm to 8 pm during the summer period, from April to October. During the other months the shop is closed all day Wednesday and on Sunday afternoons.
Also within walking distance is " La Piazzetta del Borgo", coffee bar during the day, and restaurant in the evening, ran by nice, professional young people who will make your stay as comfortable and relaxing as possible. Further on, just before the church, there is another restaurant called Antico Borgo, it´s a typical Tuscan restaurant with a scenic terrace.