The facilities of the Tuscan Holiday Home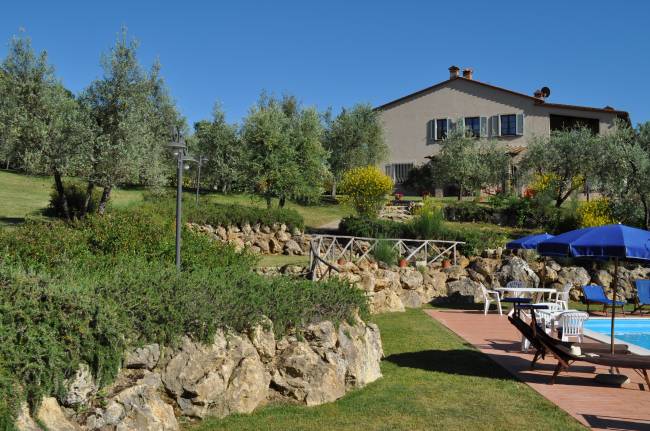 The Holiday Home in Tuscany "Casale del Madonnino"
The facilities that the Tuscan Holiday Home offers are: a large swimming pool with a furnished deck, just a few metres from the holiday home and surrounded by a spacious garden. Each apartment has its own stone barbecue and a fireplace in each living room. The price includes: bed linens and bath towels with periodic change. There is a laundry room free of charge for the guests. Free Wi-Fi HotSpot. Iano is situated in the Park Benestare (Well-being) of Montaione and Gambassi Terme where one can enjoy trekking and discover picturesque trails. Also possibility of cycling tours and horseback riding through our picturesque countryside with the choice of different itineraries. A short distance away it is also possible to play tennis on a professional tennis court, with free rental of tennis rackets and balls. Near our Holiday home in Tuscany there is a mini market which offers all kinds of foodstuffs: fresh bread every day including Sundays and holidays, fruit, local cold cuts and salami. A real convenience for guests on holiday at Iano at Il Casale del Madonnino, who will be able to just walk down and shop for any need.
Also within walking distance " La Piazzetta del Borgo", coffee bar during the day, and restaurant in the evening. The owners, two nice, professional young couple, will make your stay as comfortable and relaxing as possible. Further on, just before the church, there is another restaurant called Antico Borgo, it´s a typical Tuscan restaurant with a scenic terrace.